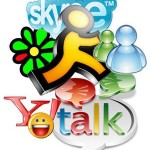 Communication is something that is very important in any domain. From simply interacting with your family, friends or colleagues, to officially communicating with people at business meetings, superiors, new people, strangers at social gatherings. Communication software is a software program that offers a remote access to systems. It also helps to exchange messages and files in audio, video or text format between different user IDs or computers. Communication software includes file transfer programs, instant and chat messaging programs and terminal emulators.
What Is Communication Software?
The communication software is generally computer based program that enable computer users to communicate with each other. Communication software includes wireless software, e-mail software, telephony software, broadcast software, messaging software, internet communication software, SMS communication software and voice mail software.
With the help of communication software like instant messenger or e-mail software, you can easily talk with people across the globe. Moreover, you can even share your files, including music, text, videos, images etc. with them.
Some Popular Communication Software Used Today
Instant Messaging
Instant messaging or IM is basically a real-time text based communication between two or more people. You can easily communicate with other users using a personal computer or other devices. This communication is made possible through shared software clients. The text entered by users is generally conveyed over a network, like the internet. With the help of advanced instant messaging software, you can even do video and voice calling.
Web Chat
Web chat allows computer users to communicate easily with other users in real time. This is possible through web interfaces. It is a kind of internet online chat program that is well-known for its simplicity. Web chat offers accessibility to users who do not want to go through the installation procedure and learn about the specialized chat software. As it requires no installation or updating, users will always get the newest version of chat service.