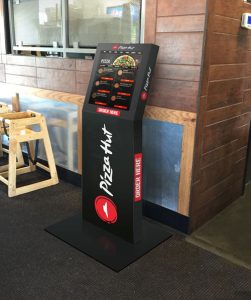 When you have decided to purchase an outdoor kiosk based system for your company, you must make sure your get one that has all of the perks. Like with most things, kiosks have endless capabilities. Not only should you make sure your kiosk stations' outside appearance "pops" for your customers to easily see it, but it should also have easy functioning internal features. Appearance drives curiosity, functionality drives productivity and sales.
Appearance Matters
What draws you to a store, restaurant, or to notice a billboard? It is probably is the appeal of those businesses advertisements. You, too, can create custom outdoor kiosks for your business. The first things you most likely want to decide are how you want your kiosk to look. If you want your kiosk to look different than all other outdoor standard kiosks, you must find a company that has that option. With these options you can choose a various set of appearance options for your kiosk from the unique style and shape of your kiosk, to the many color schemes. All of these custom styles should enhance the likeliness of customers spotting your outdoor kiosk, and using it. You should also note that you have the choice of using your own wiring system for your outdoor kiosk, making it easier to place and use for your everyday needs.
Internal Software Custom Made
If your company is a food based company, you are going to need a different software program, than a company geared towards automotive services. This is the beauty of kiosk systems. These custom designed kiosks allow you to choose how you want your system to work. You can choose the layout of the screen, the style of keyboard; the way payments are received, the way you provide coupons, and so much more. You simply need to choose how you want your kiosk program to work for your business.