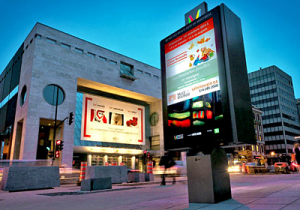 Digital signage companies can help you come up with a solution that will benefit you and your business. Aside from this, they can also help you find digital solutions that are perfect for your business. With the support of digital signage providers, you can quickly set up a digital solution that suits your business, and you don't have to worry about the things that you need to do to maintain the system.
There are a lot of stuff that you need to consider if you want to choose the best digital Signage expert for your business, and this is the reason why there are a lot of business owners who are complaining about the results that they have received from just buying digital signs from online and without consulting a professional digital signage provider.
By the end of this post, you must understand the things that will help you get the best digital signage and know the best option for you. You will find out how you can get the best digital board without spending a lot of time, money and resources just to have a large advertising board for your business.
Here are some of the most important factors that you need to consider when you want to understand how to find the best digital signage providers for your needs.
Needs Assessment
Several digital boards can help you get the most out of your digital signage for your business if you know what you are looking for. The only question that you need to answer is what are your goals with your digital signage for your specific business. For example, some boards are only capable of displaying animated texts, while there are some that can view video clips. There are also some that have touch screen capabilities, while some have the ability to integrate your social media accounts. Yet others provide central management and high security packages. Making the right choices can be difficult. This leads me to my next point.
Expertise:
The number one mistake small business owners make is they don't consult an expert or they cannot find a good digital signage provider that has enough experience at designing digital signage systems based on the needs instead they are often focused on signage features and not strategy. TJG Digital Signs is one of the most experienced digital menu signage experts in the country. Definitely consider talking to them before making any decisions.
Price:
You also need to consider the cost of the digital menu signage that you are going to buy. One of the most common misconceptions of people is that the more expensive your board is, the better results can be expected from it. If you want to get the best results, it would be better if you are going to consider your budget and look for the one that has the features and the right components you need.
Type:
Aside from the features and the price of the digital menu boards and signage, you also need to consider the type of digital signage that you are going to use. Should you be using a wireless board or something that can be configured through the Internet? Do you need to have something that has a physical storage or have it stored in a cloud for better security? These things should always be considered if you want to get the best digital signage for your business.
Size:
You can get a digital board as small as 8″ and you can get something as big as 72″. Of course, the price that you will be spending will be determined by the size of the board that you are going to buy. So make sure that you have digital signage companies that can explain the process of choosing the board for you, and as someone who can provide you with something that has the features that you need.
Finally, here is a company www.tjgdigitalsigns.com that can handle a wide range of digital signage needs, everything from single indoor digital menus, to 3 panel outdoor and indoor digital signs to digital building directories and so much more. TJG Digital Signs has over 15 years or experience, and offers a wide range of solutions and most importantly, the experience to recommend the best overall digital signage solution.