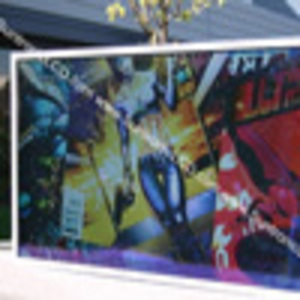 They say you haven't made it anywhere until you see your name in lights. So why not put your own name in lights yourself? By using one of many different types of lighted displays, you can easily attract attention to your company or select products. In addition, digital signs can be used to help patrons find their seats in a stadium, their boarding areas in an airport, or the right car in a train station. The uses are endless! Whether you want to use it as an advertising tool or as a way to provide better service to your clients, digital signage is the way to go.
Customizable and Easy to Change
Outdoor digital signage displays can come in a wide variety of sizes, shapes, and price ranges. Depending on your uses, you may want to find one with simple offerings such as basic text and numbers, or you could be searching for a full color, fully customizable, large advertisement panel to bring attention to your store. Some of the many benefits of a digital display includes:
Weather resistance. Place them in the rain, snow, sun, or beach side and rest assured knowing they will deliver your message in any weather condition.
Easy to change. Wanting to advertise current sales, deals or upcoming events? It's a simple process to change exactly what you want the sign to display.
One unit or multiples. Easily connect multiple units together to make a large panel display. This is popular for drive-thru menus, stadium signs, and more!
No matter where you decide to put the sign, or what you choose to have it display, you can sit back and watch the passers-by admire the brightly colored message you are delivering.
Environmental Friendliness
This may not be something most would realize, but by using a digital display you are helping to make your small mark in environmental awareness. Think of this: you can display thousands of different messages to millions of people in the span of a year without having to cut down a single tree for advertisement flyers. How's that for environmental awareness? Additionally, the amount of electricity required to power the panels is negligible and will not affect your utility costs much at all. So, to recap, when you want a bright, easy to view, eye-catching way to advertise your company, products, or services, or you simply want to make navigation for your customers easier in a large airport or bus terminal, consider the outdoor digital signage displays from Suntronic Outdoor LCD. You won't be disappointed!